Limo Fort Lauderdale Limo Selection:
Limo Fort Lauderdale has a magnificent fleet of limousines and limo buses. In fact, there's so many that we could only fit the more popular vehicles on this page. If you would like to know more about our limousines and limo buses, you can easily get in contact with us. Limo Fort Lauderdale has vehicles for every party size ranging from small, mid-size and large. Every limousine and limo bus that we have to offer is brilliant from the inside out. You will find so many great features once you get inside. Many of our limousines and limo buses have advanced mood lighting, stately sound systems with audio ports for your devices. Additionally, there's a pre-stocked bar area, so all you have to do is bring the drinks. This happens to be a feature that is a favorite among many of our clients. Also, depending on the size of your limousine or limo bus, you may just find a stripper pole. This is an added feature for those looking to leave their inhibitions at the door. We could write all day about the amazing things that our limousines and limo buses have. Take a look at the photos below to get a grasp of what our most popular vehicles carry. If you want another size, call or email Limo Fort Lauderdale. We will work with you until you find exactly what you need.
28 Passenger Limousine Bus: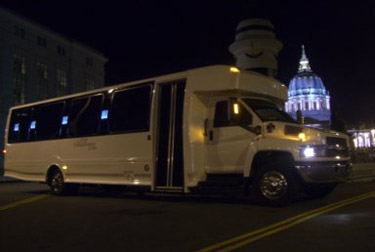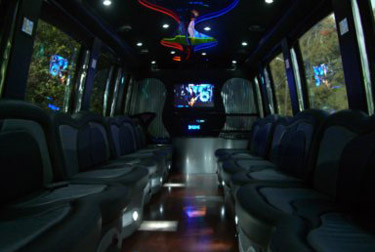 Actually, size does matter, at least to Limo Fort Lauderdale. By that we simply mean we like to create environments that let you include everyone. Don't be that person to include everyone except for that one person who you felt could be left off. That usually leads to awkward situations in the future. The 28 passenger limo bus allows you to place as many people aboard as you like. That way you can maximize your fun while placing a cap on social drama. The 28 passenger limo bus is unbelievable in terms of its features. The exterior of this vehicle is prominent enough to snag glares from everyone you pass by. Not to mention there's an amazing interior on this limo bus. Tinted windows let you lose your mind while maintaining your dignity. You can behave as crazy as you like and no one would know except for those on the ride with you. A spacious hardwood floor gives you plenty of dancing room as well. So turn up! Speaking of turning up, this limo bus has one of the greatest audio systems you'll ever experience. Attach your mobile device to one of our audio ports and you'll have this limousine filled with your beats. Furthermore, plush seating provides you with additional comfort on top of every other luxury this limo bus has. There's also a few bar areas for you to use too. All of our bar areas come with ice and cups. Sadly we cannot provide alcohol, however you can, and we'll help you to keep it cold too. Mood lighting and a media center accompany the décor of this vehicle as well. These features allow you to set the mood that you want for your ride. Want to know more about what the 28 passenger limo bus has? Get in contact with Limo Fort Lauderdale.
40 Passenger Limousine Bus: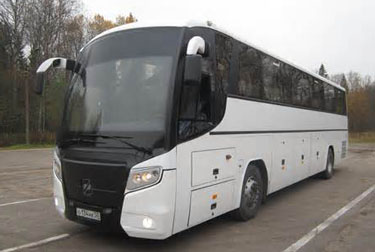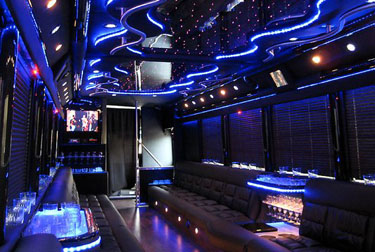 The 40 passenger limo bus is the fiercest in our fleet. This limo bus is for those who teeter between overly-popular and semi-famous. With this bus there's no cap placed on your guest list, unless it exceeds 40 passengers. In the event that your party does exceed 40 people, you can always rent an additional limo bus. Outside of it's massive size and beastly presence, the built in stripper pole makes this an instant favorite. You can swing like a monkey while your friends pour up at the bar. Additionally, our epic sound systems let's you fill this bus with your favorite jams. There's audio ports for those who are more technologically advanced and a CD player for the purists as well. Tinted windows come on this bus as well. Lastly, you and your friends will enjoy our multiple HD flat screen TV's. You can watch your favorite shows or the game from them. There's also a media center that gives you a Blu Ray/DVD player. With this option you can insert your favorite movie and relax, or use it as a scene filler. Really the choice is up to you. Got a big event in mind? We've got something bigger for you. Contact Limo Fort Lauderdale to reserve this limo bus asap.