Limo Fort Myers Limo Selection:
See the best of Fort Myers in a plush limousine or limo bus from Limo Fort Myers. We have a varying arrangement of limousines and limo buses for you to choose from. One thing we can guarantee you is that you will get luxury treatment no matter what vehicle you choose. We have both limousines and limo buses for you depending on your purposes. Even better than that, our limo buses come in large and small sizes. So no matter the size of your guest list, we will be able to get you into an astounding vehicle. Those waiting at the venue will be envious once they see you exit one of our fleet vehicles. Limo Fort Myers limousines and limo buses are full of features like: soft leather seating, color-changing mood lights, bar areas with ice and cups for your drinks, concert style audio systems, DVD/Blu Ray Players, and much more! Preview Limo Fort Myers selections from the pictures and descriptions below. Once you have a better understanding of our vehicles contact Limo Fort Myers for your reservation. We'll go through everything with you so that setting your date becomes a breeze.
15 Passenger Limo Bus: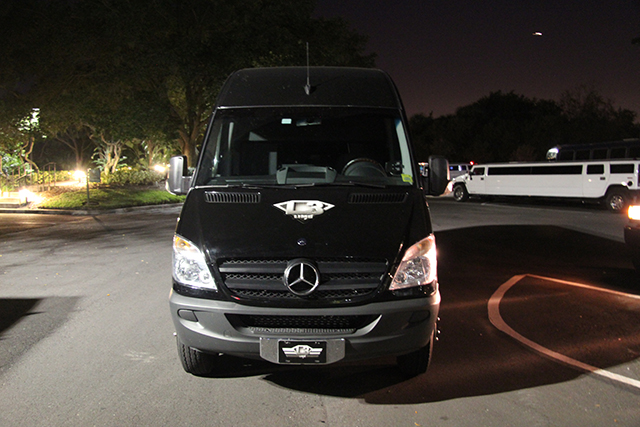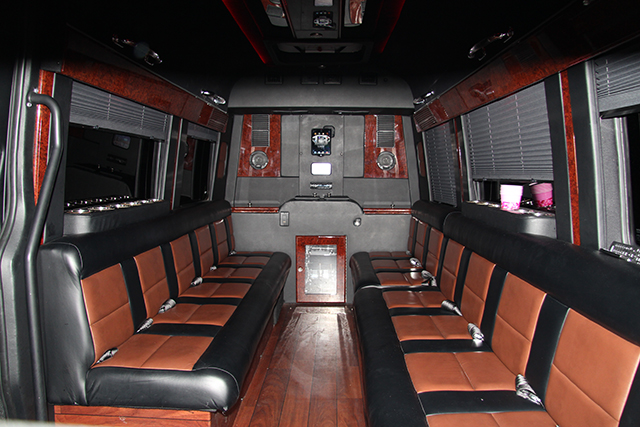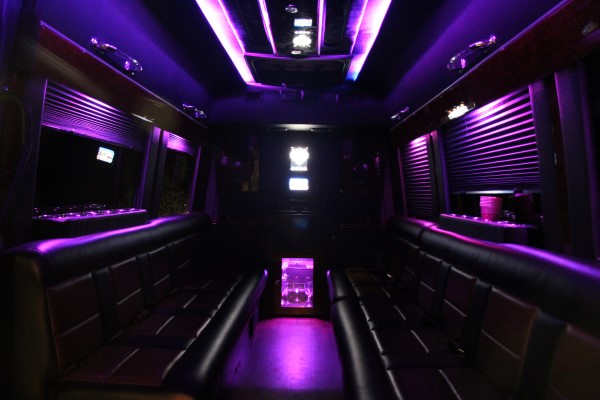 Small is a losing state of mind, everything that Limo Fort Myers does is on a large scale including our smaller vehicles. The same goes for our 15 passenger limo bus. A rich, black exterior evokes the feeling of class as your romp through Fort Myers. Additionally, the interior of this limo bus is nothing less than superb. Comfortable leather seating helps create a posh club energy on this bus. Combine that with our fantastic mood lighting and you have a setup for a phenomenal ride. On top of that, we have an incredible sounds system for you to blast your beats. It comes with audio ports for your mobile devices for the tech saavy. There's also a cd player included for those who still prefer CD's. Tinted windows keep unwanted attention out too. The only people who should see you outside your element are those on the limo bus. There's also a pre-stocked bar area for your liquor. You can't go wrong with all of these great features on your ride. If you're party is a little smaller in size, you should consider the 15 passenger limo bus. It will awe you in spite of its size.
20 Passenger Limo Bus: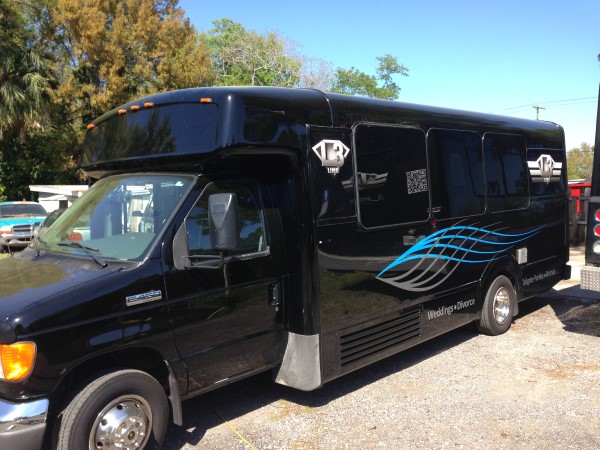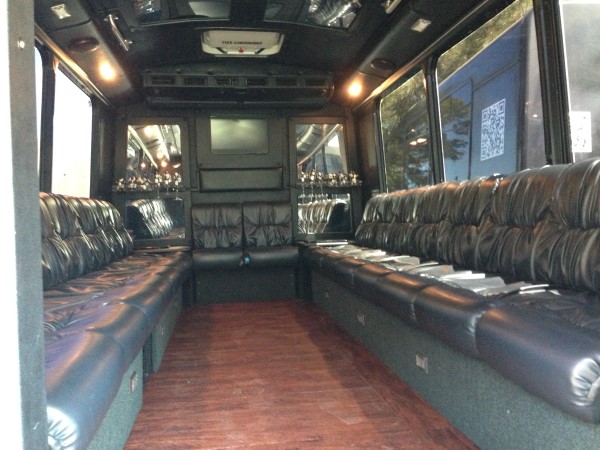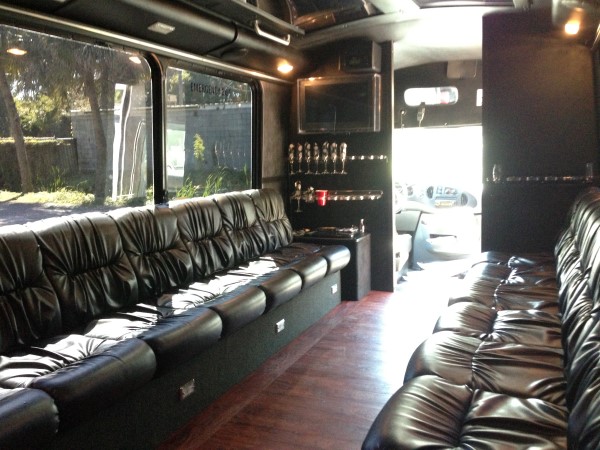 Just a tad larger than the 15 passenger limo bus, the 20 passenger is another great selection or ours. It comes with everything you need for your ride. You'll find ultra soft leather seating along with a spacious hardwood floor on this limo bus. There's a booming audio system for your CD's and mobile devices. You can fill this limo bus with your favorite jams in no time. Don't forget about our bar area as well. People tend to love our bar areas because they come with cups and ice. You just have to remember to grab the drinks.
22 Passenger Limo Bus: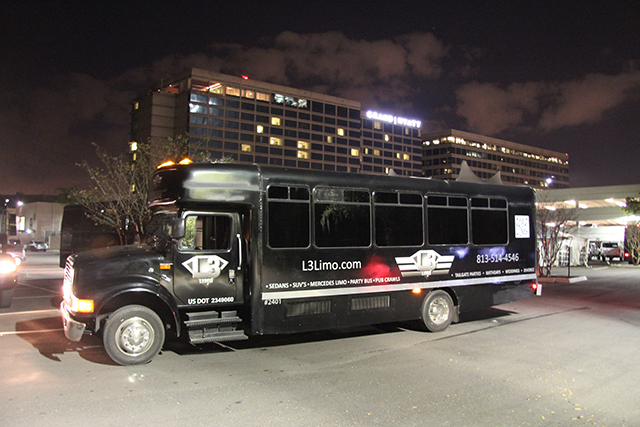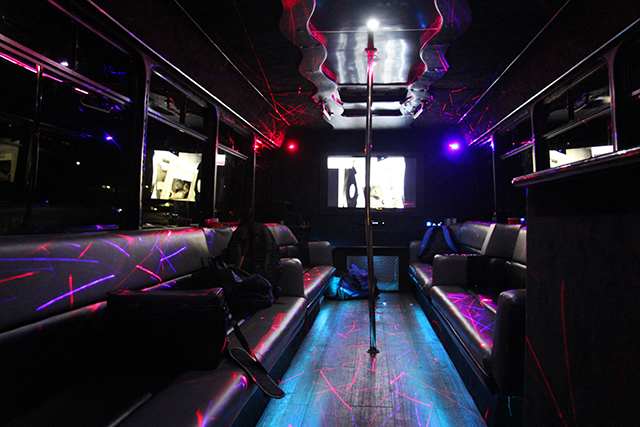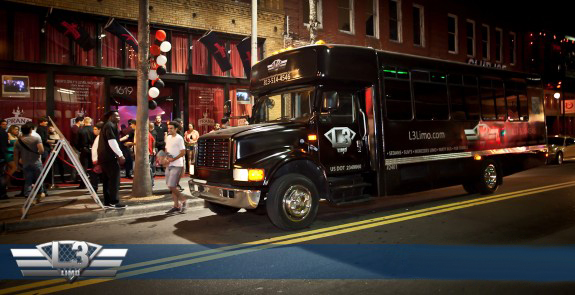 The 22 passenger limo bus is Limo Fort Myers mid-size vehicle. Extreme laser mood lights create a vibrant club scene for you. This in addition to our advanced sound system let you party how you like. Our bar area let's you keep your drinks on chill while you have fun on your ride too. Just like Fort Myers other limo buses, this one comes with tinted windows and comfy leather seats. In addition to all these great features, there's a built in stripper pole for your entertainment. Spacious hardwood flooring gives you the space to dance and mingle as well. Play your music through our sound system to get everything going. Due to its size and the added stripper pole this limo bus tends to be popular. If you're interested in this, you should contact Limo Fort Myers now! That way we can try to ensure that you get this limo bus for your date.
32 Passenger Limo Bus: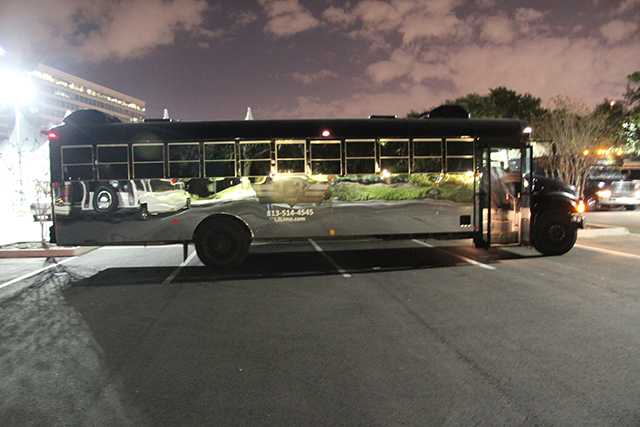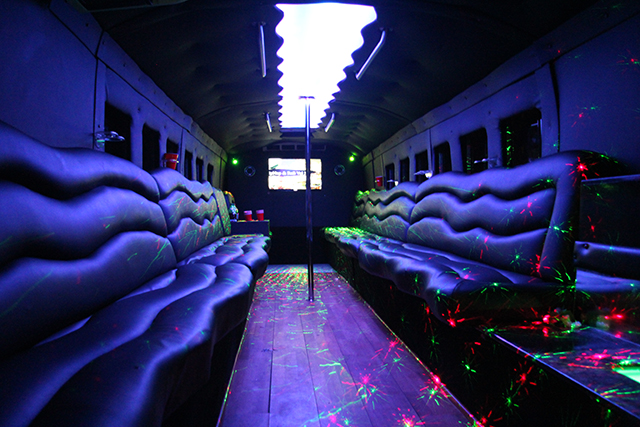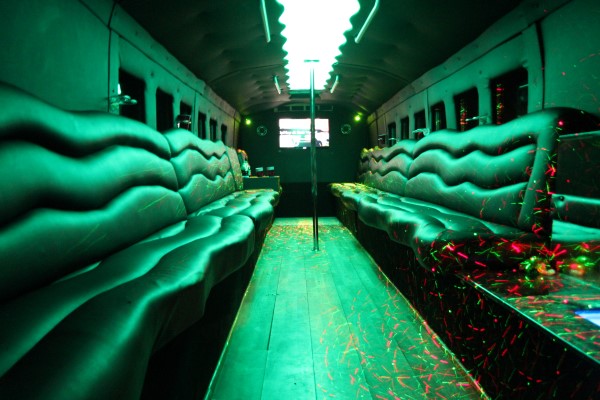 The 32 passenger limo bus is another popular selection that Limo Fort Myers has. This is the second largest limo bus in our fleet of vehicles. It comes with all of the features of the 22 passenger: tinted windows, bar area, leather seats, epic sound system, and mood lighting. This limo bus gets the one up because of its super attractive reflective exterior and it's additional passenger capacity. The amenities of this limo bus in addition to its size make it another popular vehicle in the Limo Fort Myers fleet. Call Limo Fort Myers today to see if this limo bus is available for your reservation date.
42 Passenger Limo Bus: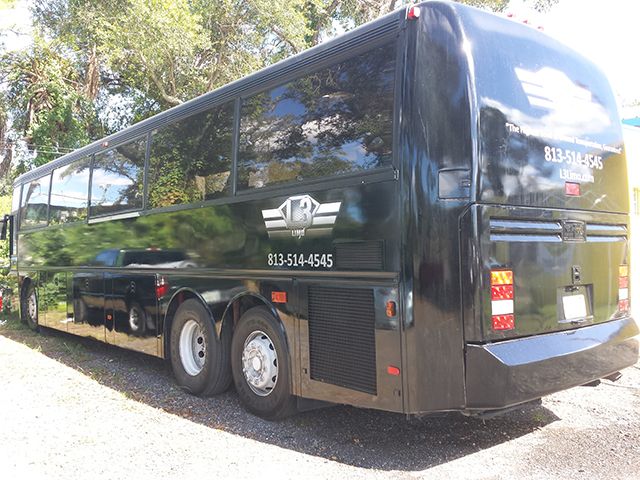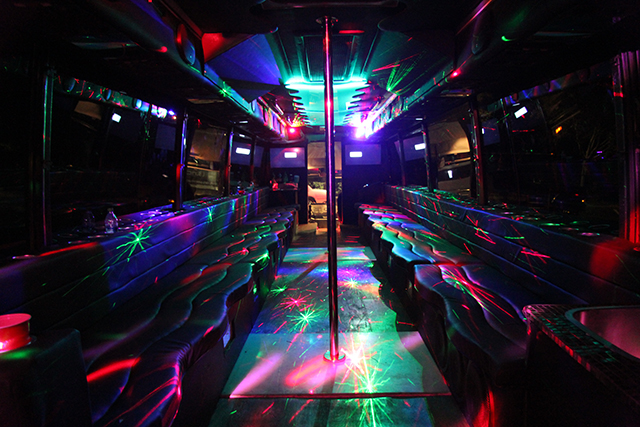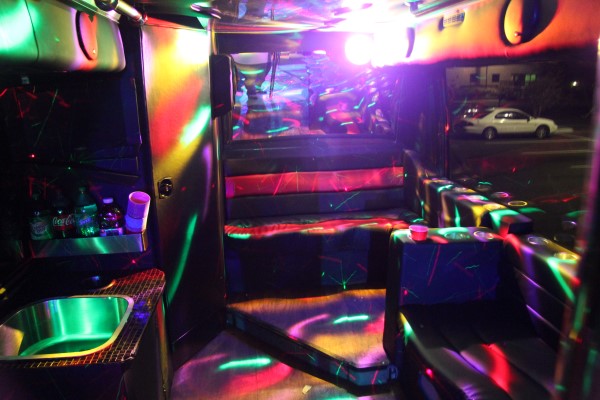 The 42 passenger limo bus is the largest one that Limo Fort Myers has to offer. This vehicle is packed to the max with great features. This limo bus is so large that it comes with its own vip section. That's only one of the many other features it has. There's a stripper pole, club-like sound system, extravagant mood lighting, leather seats, tinted windows and then some. This limo bus offers plenty of space for you and everyone you know. So go ahead invite as many people as you like. We're sure they'll love our prestocked bar areas in addition to everything else. If your looking for a massively wild time go ahead and reserve this limo bus.
Executive Sedan Service:
Limo Fort Myers also offers luxurious transportation to the corporate clients and executives. Using a taxi comes with a lot of uncertainty. Additionally, hailing one is enough to enrage you. Keep the beast inside, and order one of Limo Fort Myers executive sedan's or SUV's. Every executive sedan and SUV that we provide is extraordinary. Many of them have regal exteriors so you can show up with class. Also, the interiors have incredibly comfortable leather, wood grain finish and chrome trimmings. Get the executive treatment. Consult Limo Fort Myers for our collection of executive sedans and SUV's. See what we offer below.
---
Cadillac Escalade ESV Executive SUV Service: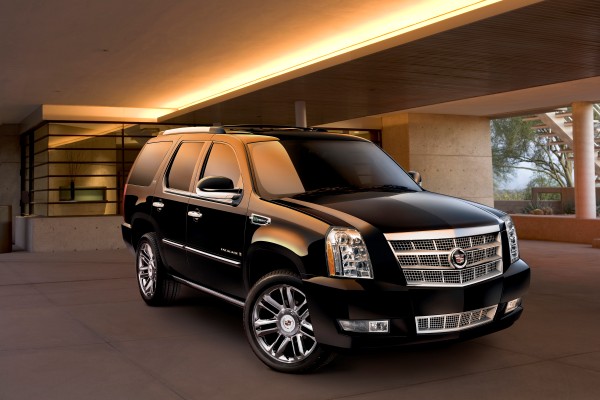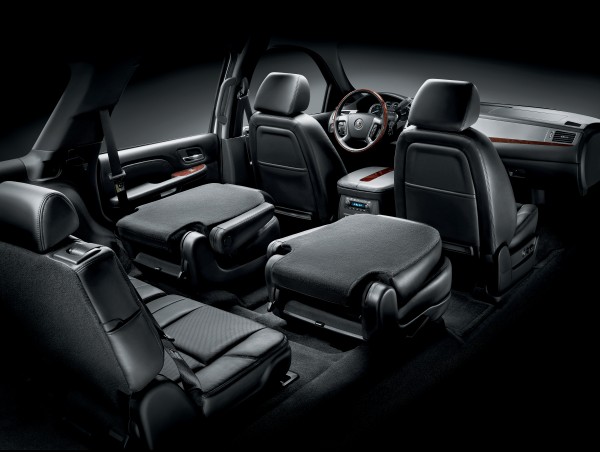 Toyota Avalon Executive Sedan Service: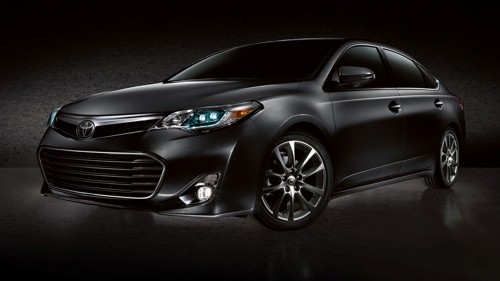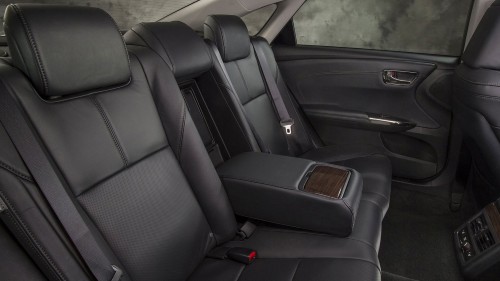 Chrysler 300 Executive Sedan Service: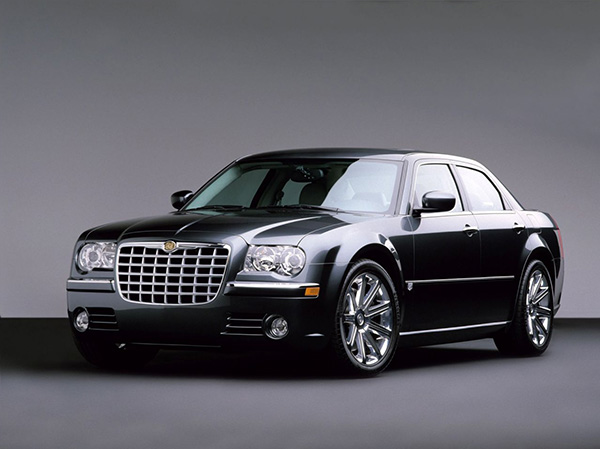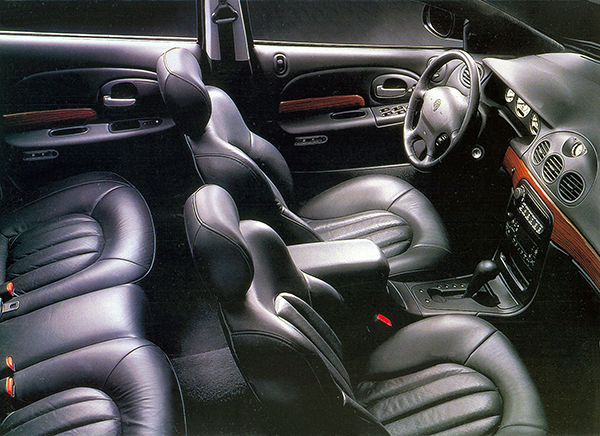 Lincoln Town Car Executive Sedan Service: