Miami Limo selection:
Selecting the best possible limousine or limo bus in the greater Miami area is now even easier than you thought. You'll find that when dealing with us, your event's luxury vehicle choice can be done in a snap with our amazing selection. Limo Miami has tirelessly driven forward in making additions to our stupendous fleet of limos and limousine buses. You will undoubtedly appreciate this fact from the very first moment you climb aboard any one of our vehicles... From the smallest to the largest, we spare no expense in procuring and maintaining of all of our vehicles. Be sure to get the best and have the best when it comes to our selection of Miami limousine buses.
28 Passenger Limousine Bus: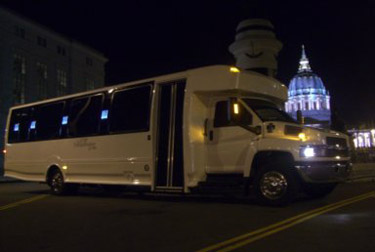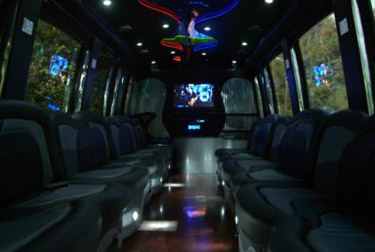 With 28 passengers on board, you can guarantee that you will get the best when it comes to a good time and lots of fun on your Miami limo bus. The exterior's elegant appearance will impress your guests as she's pulling up, and once everyone climbs on board; be prepared to be "wow'ed" by the immense amount of features contained herein. Luxurious leather seating, color accented mood lighting, wet-bars with coolers, high-definition televisions, all topped off with a sound system that will impress even the ardent concert goers in your group.
40 Passenger Limousine Bus: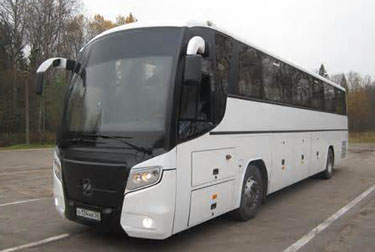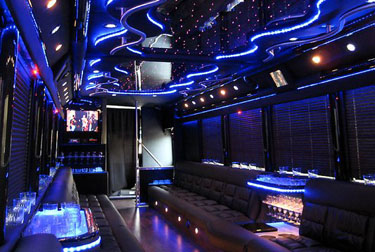 When you want to fit 40 passengers into one great limo bus, you'll find this spectacular limousine bus to be your best choice for limousine buses in Miami. With a clean "coach bus" styled exterior, this beautiful limo bus doesn't skimp in any area. Inside, the elegantly appointed interior just welcomes you and your guests to sit back and enjoy life in the utmost lap of luxury! Elegant leather seating coupled with the best accompaniments that money can buy are sure to impress, provide enjoyment and comfort to all riders.